Past sales.
Most of the values in DASH are based on literally hundreds of thousands of model train item sales. Right now, we show the high and low price ranges for all items we have sales history. We distinguish between Boxed items and Unboxed items in our values guide, so for some items, you will see two values ranges given, with Unboxed items generally getting a lower value.
Accessing the values guide is a feature of the DASH Collector's Club, so be sure to check out the set of extra features Club members get. Estimating the real value of your items requires a bunch of specific information, so don't expect our values to be exactly what you may end up selling your figure for. Read more about the factors impacting item valuation here.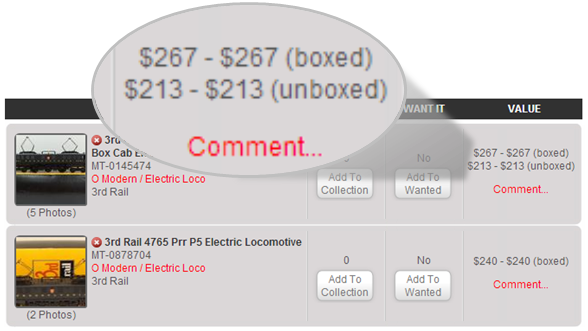 Coming later...info about condition.
Later, we plan to enhance our values guide to show you all past sales histories of boxed and unboxed items, associated with the graded condition of that item. Condition can often have a dramatic impact on the value of an item, and so you will be able to understand the valuation of your own item from a much more complete perspective. (We use the TCA Grading standards.)
When we're wrong or incomplete (and you tell us), we fix it.
We maintain values for more than 54,000 model trains today. Given market conditions and the fickle nature of collectors, the business of values is dynamic and somewhat subjective.
Every value in DASH has a Comment button next to it. If you think we're too high or too low, please let us know. We have NO stake in whether the value is high or low frankly, and we'd love the help in keeping the values as accurate as possible.