Frequently Asked Questions
Below are the most common questions by topic. If you still have a question after you review this information, click on the Chat Support link above. If a DASH team member is online, we'll be happy to help you. If we're not online, click on the Contact Us link and we'll get back to you soon.
USING THE CATALOG
What is the purpose of the Catalog?
The DASH Catalog is a structured, searchable resource for model train collectors. It aims to make collecting easier by being a reliable, comprehensive catalog for collectors to discover new items and information about them.
The Catalog also serves as the foundation for DASH's collection management and Marketplace. With living linkages between the Catalog and the other key sections in DASH, as the Catalog gets better, collector's understanding about their collections and wanted list gets better. Importantly too, a strong Catalog streamlines mundane tasks such as listing items for sale and estimating the value of items. With a common, rich resource, even mundane tasks like removing ambiguity about item names gets easier for everyone.
The task of creating and maintaining this Catalog is immense. In order to simplify the maintenance of the Catalog, it is set up to allow the passionate and knowledgeable collector community to contribute to its maintenance (much like Wikipedia, but tailored specifically toward model train collectors). One day, we hope that even model train manufacturers will help keep the Catalog accurate, especially as they launch new items. As a free resource for collectors, it serves like a 'Library of Congress' for the community. With great photos, video reviews, and user reviews, the DASH Catalog is an indespensible resource for the community.
Watch a video of how to add or edit items in the Catalog.
What is a DASH ID and how can I use it?
One of the key challenges for collectors is in the identification and communication of which specific item they have. The collectible market has a number of particular idiosyncrasies that make this identification and communication particularly challenging.
Consider these Atlas boxcars:

These cars are exactly the same except for the road numbers, but have different model numbers (Atlas 0527-1 and Atlas 0527-2). Similarly, MTH has made cars with different road numbers, but they did not use unique model numbers to distinguish between the cars. Additionally, if you had only one of these cars, even knowing the existence of the other is useful.
Here is another example of problematic model numbers.

Lionel reused some model numbers in different years for totally different items. Shown here is the Postwar 1665 0-4-0 switcher and the Lionel MPC-era 1665 NYC Empire State Express Set. To help deal with this and to be consistent all MPC-era and modern-era Lionel trains use Lionel's prefix numbers.
"6-"For O Gauge
"8-"For G Gauge
"4-"For S Gauge (Where they were used on the box)
Most new trains have UPC barcodes on them, which are supposed to be unique to each item. We have captured thousands of UPC numbers, but usually when there is a UPC number, the model number is also printed on the box. UPC numbers are a poor identifier anyways, as many manufacturers do not assign a UPC number to each unique item.
Some trains came without any catalog numbers printed on the box (especially Williams and Weaver trains). For these, we have used the road number on the cars as the model number.
DASH eliminates the confusion by assigning each item a unique "DASH ID." All items in DASH have an ID that starts with "MT" and has a six-digit number. For example, the Lionel MPC-era NYC Empire State Express Set is MT-0582006 and the O Gauge version of this set is MT-0571366.
Using the shorter DASH ID can greatly simplify the communication between collectors. Plus, rather than seeing a seller listing their Weaver freight cars using one naming convention while a potential buyer was searching using a different naming scheme, DASH has established naming guidelines that help collectors communicate in the most accurate and efficient way.
I can't find the item(s) I am looking for. How can I find them?
There are two main ways to find items in the Catalog: browsing/filtering and search. The best way to learn about how to browse and find items in the Catalog is to watch a video of how to find items in the Catalog (needs to be updated for model trains). If you have several items of the same brand, you may find clicking through the linked series to be the most efficient way. Start by choosing either one of the top categories as shown, or you can peruse from the items from more than 600 different manufacturers.
As you click on different series, you will notice that the items in the list below are filtered. The great thing is that you learn as you explore, and once you find the series you are looking for, all the items you are looking for are right there. We'll be expanding the depth of the Catalog's taxonomy to help collectors explore more efficiently.
At any time, if you see a train from the series you are looking for, you can click on its series to see only the items in that series. (Note too, that once you are in the right "deepest" part of the taxonomy, you can do searches within just this most constained subset.) If you are looking for a particular model train, search works really well.
Type the most specific part of your model train's name into the search box. For example, if you are looking for the classic Lionel 2343 Santa Fe diesel locomotive, searching for "Lionel Santa Fe" will return more than 400 items. Instead, if you search for "2343" the search will return only 7 items – the actual 2343 Santa Fe diesels and all the sets that had those diesels in them.
We're doing our best to add UPC codes to the database too, so if you do have a good UPC number, searching for your model train's UPC code is a good strategy (be sure to type in the full 12 digits). For dealers or collectors with a massive packaged collection, using a UPC barcode scanner works very well with DASH. The DASH app for Android mobile phones can be used as a bar code scanning tool also! Simply click in the Search box and scan the UPC of the item you wish to add. If that model train has its UPC in the Catalog already, then you will see it. (If the search results are null (blank), please search with other criteria. When you find the matching model train, please add the UPC!)
Some items don't have UPC codes, but do have manufacturer or road numbers. You can also search using those numbers. In the event that a brand, series or item is missing from the Catalog, please add it using our DASH-wiki functionality. Please do a thorough search before you do so though as we don't want to add duplicates to the Catalog.
I see some inaccurate or missing information. How can I correct this?
DASH's catalog is built as a "wiki-enabled" community resource. We have internal audit capabilities and a team of experts to help review updates made to the catalog; however, we rely on the contributions of our users to keep the DASH catalog the most accurate and comprehensive resource for model trains collectors. Editing information for an item in the catalog is easy.
Click on the name of the train to display the Item Details screen for that particular model. There, you can simply click on many of the fields to edit or add to the catalog. Make your change and click OK. Your updates are now live for everyone. As mentioned, we routinely audit this information for accuracy. All edits are tagged with the user name of the person making the edit.
Adding items to the DASH catalog is easy too. Before you add an item, we ask you to do a thorough search for the item first! We are working hard to remove duplicate entries, and many times, users will find the model train they think is missing in a different series. Please review the "How to Find a Model Train in DASH" for tips and best practices for finding items.
To add a model train to the DASH catalog, click on the Catalog tab. Find the category in the catalog where you think the model train you want to add should be. For example, if you think the DASH Catalog is missing a Weaver Milwaukee Road 2-Car Add-On Passenger Set, click the Add New Catalog Item button. Fill in the information on these screens and click OK. DASH will generate a new, unique DASH ID for your new entry and display it in the series you are in. Tip: You will notice that, if you click into the Item Details screen for an item very much like the one you are adding to the Catalog, you will see an "Add New Catalog Item" button here too. By clicking on this button, DASH will pre-fill more of the detailed info from the currently selected item which speeds up the process.
I think there are some duplicate items. How can I correct this?
There are three things regular users cannot edit in the catalog. First, users cannot add or change the value ranges for any item. Values in DASH represent actual past sales of this item, either Boxed or Unboxed. Users are encouraged to provide feedback and information about any value range in DASH, and all feedback is reviewed by DASH's expert staff, and they will make the appropriate changes. The second thing regular users cannot do is delete items or photos from the DASH Catalog. The DASH team is eager to hear about any duplicate items or erroneous photos. When you contact us with such items, please provide the 6-digit DASH ID and our team of experts will take action to clean up the data. We KNOW there are duplicates and errors in the catalog (and frankly, there always will be), so getting feedback from the community of collectors is critical.
I see some pictures that aren't right for the item. How can I delete photos in the Catalog?
See the previous answer. Only DASH "Content Admin" personnel can delete photos in the Catalog today. Please click on the Contact Us button and report any errors you see (please note the DASH ID of the items) and we will correct the issues.
How can I get attribution for the photos I upload?
We like to recognize user contributions to the catalog. Whenever you upload a photo to the catalog, you will see a checkbox to turn on attribution for your contributions. We default to your user name, but you can change that. You can also link your attribution string to any external web page that you choose. Just type in the URL for your link and upload your photos
How can I add photos to the Catalog?
If you have photos to contribute to the catalog, open that Item Details screen in the catalog tab. Click the red "Upload Photos" button and follow the prompts to pick your JPG or PNG pictures. While most of the photos in the DASH catalog are of packaged items, DASH very much wants both high-quality boxed AND unboxed photos of every model train. You will see a photo selector appearing down the left edge of the photo viewer, enabling the user to choose to view one of many different photos for a single item.
What are the item naming standards on Collector-ModelTrains?
We strive to follow a simple rule when naming items in the catalog. We try to name the train by the name on the box. That means that some items share a name with other items (e.g. there are a lot of items named "Pennsylvania Boxcar"). You will also see some long names (e.g. InterMountain 25139S-07 SF Single Door Boxcar-Scale Version) because that is the name/description given on the package. Because all items have their own unique DASH ID, users do not have to overload the name with extraneous information, introducing numerous inconsistencies in the Catalog. You will also notice that, when we felt it appropriate to add more information to the title, we have done that using the format "Manufacturer Model Number Roadname Description Road Number". An example of this would be "Athearn 14193 C&O 50' PS-1 Plug Door Boxcar No. 23296" Please see the DASH Catalog Item Naming Guidelines for more details.
MANAGING MY COLLECTION
How do I add items to my collection?
To add items to your collection, first register for an account. DASH needs to know who to credit the collection to! Next, click on the Catalog tab. Pick a model train that you have and click on the Add to My Collection button in the "I've Got It" column. If you have two of that item, click the Add to My Collection button twice.
When you add an item to your collection, a copy of that model train is recorded in the My Collection section of DASH. You will notice that, for example, if you clicked Add to My Collection from the "Weaver 24293 Pennsylvania Boxcar" model with DASH ID MT-0393278, you would see that model train listed under your My Collection tab with the DASH Unit ID of MT-0393278-XXXX. Any collector of that model train will share the first seven numeric digits of the DASH ID, but every unit across collectors will have a unique last 4 digits.
How can I remove items from my collection?
To remove items from your collection, click on the My Collection tab and click on the model train you want to remove. Next to the DASH Unit ID for that model train, you will see a red X button. Click it and you will be asked to confirm your deletion. Click OK and the model train no longer is in your collection.
I see that I can record different information for my items. What do the fields mean?
The items in your collection inherit all of the great info that you see in the catalog, but in your collection, you can add specific information about your specific items. Click on each of the following fields to record this information for your items:
Grade – Please see the DASH Valuation and Grading Guidelines for the specific definitions for this scale. We recommend using the TCA published guidelines.
Condition – Whereas "Grade" is a short-hand term for an item's condition, the Condition field enables a collector to write a freeform description of his item's condition. There are a number of abbreviations collectors may use in the Condition field, but the important thing is to accurately and honestly describe your model train. In the event you ever sell that train, you will save yourself and your potential buyer a great deal of grief by accurately and honestly describing the condition of your item.
Boxed - If your item is in its original packaging, you should choose "Boxed." If you don't have the original packaging of your item, choose "Unboxed." This designation is important in describing your items accurately, but it also affects the total valuation of your collection.
Date Acquired (private field, meaning not visible to other users ever): Pick the day you acquired the item.
Acquisition Cost (private field, meaning not visible to other users ever): Record how much you paid for the item.
Location (private field, meaning not visible to other users ever): For collectors with extensive and distributed collections, this is a field that helps them find their items. For example, a collector may record "In box #3A in the basement" for an item's location.
My Value (private field, meaning not visible to other users ever): We have more than 50,000 items in the Catalog with value ranges for either Boxed or Unboxed items. These values are based on actual past sales of like items. If we are missing values for some of your items, please click the Comment link next to that item in the Value column. That will trigger our team of experts to evaluate the values for that item. Of course, you might not agree with our values either or your item could be custom-painted, restored, or materially better or worse than the average item, so you can "override" our valuation by filling in your own value for your item. If you fill in the My Value field, DASH will use it when reporting your collection's overall value.
Custom Field 1 and 2 (private fields, meaning not visible to other users ever): The two custom fields are for collectors and sellers to record other types of information about their items. Many sellers opt to record their own SKU number in one of these fields to help them manage their inventory across multiple sales channels.
Note: If you sell an item, all non-private fields and photos will be moved to the buyer's collection. Private field information is not shared with anyone.
How can I upload photos of my own items?
When you are in My Collection and click to see a model train's Item Detail screen, you can click on the Upload Photos button. Pick JPG or PNG files to upload for that item. If you have better photos for an item than are presently in the Catalog, please upload your photos for that item into the DASH Catalog. There are no size limits to the size of photos uploaded, and we love high-resolution photos that look great in our full-screen viewer!
How does having my collection managed on DASH benefit me?
Of course the biggest benefits are being able to keep track of what you have and what you want. Instead of having to try to remember it all, DASH collectors can access their full collection and wanted list from any web browser, or from their iPhone and Android-based mobile phones. No more guesswork. Beyond that, because your collection is integrated with the DASH Catalog and Marketplace, it becomes a dynamic collection. As the information for your items is improved in the Catalog, the data in your Collection is enhanced. As users add video reviews of items or other reviews, that information is linked to your items.
One interesting benefit of managing your collection alongside thousands of other collectors is that you gain insights about your own items, based on the aggregate activity of the community. For example, DASH shows a collector how many other DASH users have marked his or her items as wanted. DASH also gives collectors a feel for how commonly their items are pursued by the collecting community. Collectors can also rate all items in the Catalog, so collectors see the community's overall average rating for each of their items too.
Additionally, as items you want are posted for sale or reduced in price, DASH can automatically notify you. Lastly, because DASH also maintains the world's largest, impartially-managed, online value guide for model train items, collectors can get what amounts to a third-party estimate of the overall value of their collection. In particular, this report makes getting insurance for your collection easier and often less expensive (often 20% less in your insurance rates!)
I get alerts on some of my Wanted Items. How does that work?
By default, when a user adds an item to his Wanted List, DASH turns on "Marketplace Alerts." Whenever a new item is listed for sale or reduced in price, a DASH user who wants that item gets a brief notification with link to review that listing. You can turn on/off alerts on an item-by-item basis in your Wanted List, and you can turn off Marketplace Alerts by default in your Account Settings.
BUYING
What makes buying on DASH safe and secure?
Technically, buyers and sellers can feel safe using DASH because it leverages the most popular and proven payments platform in the world, PayPal. All money flows directly between buyers and sellers, and both parties are bound by the PayPal Dispute Resolution Center. All user-sensitive, confidential information is transmitted using encrypted communications, and it is stored in a secure format on DASH systems. Both buyers and sellers are able to communicate through the DASH messaging system without revealing personally identifiable information. Importantly, there is a feedback mechanism for both buyers and sellers. Both parties are incented for good behavior knowing that the other party can hurt their "reputation" on DASH with a negative feedback rating.
When a buyer or seller disputes a feedback rating they have received, DASH will review the transaction details and messages between both parties. At DASH's discretion feedback may be amended from negative to neutral, although the original comments will be left intact. In these cases, both parties will be notified of the change, as we always seek full transparency with the feedback system.
How do I pay for items I buy in the DASH Marketplace?
Both buyers and sellers must have active PayPal accounts. On PayPal, payment can be made with credit card, bank draft or e-Check. We may add other payment methods later.
Buyers should attempt to make payments within 3 days of an auction closing. In cases when buyers are waiting for multiple auctions to close in order to take advantage of combined shipping rates, please pay as quickly as possible after the last item ends. DASH considers 10 days the maximum amount of time a buyer may wait to pay, but sellers may outline more specific or timely deadlines in listing details, so please refer to each listing individually.
How can I contact a seller?
Users can contact the individual seller of any item in the DASH Marketplace. Click on the "Contact the Seller" button for a listing and write a note. This communication shows up in the seller's DASH Inbox, where they can reply to you securely, using only DASH usernames.
Please remember that DASH does not sell items directly and we will be unable to assist you in regards to non-site related issues with your order. For instance, Trainz is one of the largest sellers on DASH, but they have their own customer service team which can help you.
How do I leave feedback for a seller?
Feedback is critical in online marketplaces. It provides a way for buyers and sellers to grade each other, establishing a "trustablility reputation" for each of the partners in the transaction. To leave feedback for a seller, click on the drop-down menu at the top of the screen. Click on My Account. Click on the Feedback section. There you will see a link for "Feedback". The feedback model in DASH is two-part. First, was your experience Positive, Neutral or Negative. If the seller communicated adequately with you, dealt with you honestly, and was reasonably responsive, we encourage you to consider that a "Positive" experience. Even if the item wasn't exactly what you'd hoped for or if there was a shipping error due to the post office, did the seller work in earnest to resolve any issues to your satisfaction? If so, then a "Positive" rating is likely appropriate. If the seller really did not try to gain your satisfaction and you will not likely do business with that seller again, then a "Neutral" or "Negative" rating may be in order. The second part of the rating is a comment field, and what your write there is very important to both future buyers and that seller. Please take the time to fill in feedback for every transaction!
How do I keep track of the feedback sellers have left about me as a buyer?
Sellers can also give feedback on buyers. There are buyers that are not good to do business with as well, and seller feedback helps to provide a check on the buyers. Buyers are responsible for paying and being reasonable about the transaction. To see your buyer feedback, click on the drop-down menu and choose My Account at the top of the screen. Under the Account Settings, you will see a link for "Feedback". That will list all the feedback that you have received from others.
I see new discounted items every day. How are those selected?
DASH offers our sellers the opportunity to opt-into a special daily promotional program. This program is being updated, so keep your eyes open for new Daily Deals.
What happens after I buy an item on DASH?
When you click the Pay with PayPal button, DASH will ask you to log into PayPal to authorize payment for your order. DASH will have set up your order(s) through PayPal for you, so this is a simple process. The seller will see the orders well-documented in PayPal too, enabling them to take advantage of PayPal features such as label printing, customs documentation, etc. Check the Purchases link at the top of the DASH screen to check the current status of your purchases.
What is a Buyer's Premium?
DASH auctions are modeled after live auctions. Just like how the auctioneer will often extend auctions based on last minute bids, DASH too automatically extends the duration of an auction by 10 minutes whenever a bid is placed within the last 10 minutes of the listing. Going, going...Etc. Additionally, "Buyer's Premiums" are also commonplace in live auctions. Based on the final selling price of the item, DASH will add an additional 15% "Buyer's Premium" fee to cover additional marketplace and seller expenses. PLEASE KEEP THIS FEE IN MIND AS YOU BID ON AUCTION ITEMS IN DASH! The extra fee is calculated only on the item price (not shipping or any other fee), and the Seller retains the Buyer's Premium fee.
What is the DASH Community Fee?
To help cover the costs of maintaining its database, collection management and marketplace, DASH adds a $.50/item Community Fee to every item purchased in the DASH Marketplace. This fee is paid by buyers to sellers during purchase, and DASH invoices Sellers for the Community Fees they have collected as part of our routine monthly Seller invoicing. DASH offers two premium upgrade levels - DASH Club and DASH Premium. DASH waives the DASH Community Fee for all premium-level users as a way of saying "thank you" for their paid support of DASH.
How does combined shipping work?
Some sellers offer combined shipping discounts when you purchase multiple items from them. DASH will automatically calculate these discounts when you create an invoice and check out in the Marketplace. In order to take advantage of combined shipping on all the items you purchase from the same seller, you will need to wait until all the auctions have closed to create your invoice and checkout. Please do not wait to pay for more than 3 days just to take advantage of a combined shipping discount.
Combined shipping discounts are calculated in a specific way. Items have a "default" shipping price and a "combined" price. The item with the most expensive "default" shipping price will establish the base for an order's shipping, and each subsequent item will add on the "combined" shipping cost. Consider the following 3 items in an order.
Item 1 - Default shipping: $10, Combined: $3
Item 2 - Default shipping: $8, Combined: $2
Item 3 - Default shipping: $8, Combined: $2
The total shipping cost for this order would be $14 ($10 + $2 + $2). No matter the order in which the items are purchased, the combined shipping will always calculate with the highest default shipping cost as the base.
SELLING
How much does it cost to sell in the DASH Marketplace?
Sellers pay DASH a Final Value Fee based on sales they make in the DASH Marketplace. The Final Value Fee is based on the total invoice amount calculated based on the item sales price and shipping charged. Sellers pay no listing fees. There are several options for people interested in selling on DASH, and the rates for these options are available in the DASH Rate Plans page. DASH will accrue records of your completed sales and will bill you for payment of the owed transaction fees periodically via PayPal.
How do I list an item for sale in the Marketplace?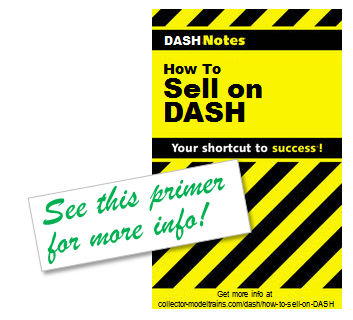 Anyone can sell items on DASH. Although we are home to large sellers like Trainz, DASH is an independent marketplace and you're welcome to sell on it too!
The first step to sell items on DASH is to register and configure your account for selling. To configure your account to sell, you will need to agree to the terms and conditions, as well as register your PayPal information so that DASH can facilitate payment to you when one of your items sells. Click on the drop-down menu and click on My Account at the top of the DASH screen. There, you will see a link for "Selling" in the Account Settings section. After you are configured as a seller, click the Sell link at the top of the screen to manually create a listing for sale. If you are a dealer or have hundreds of items to list for sale, please Learn about our PowerSeller options.
What happens after someone buys my item?
After a buyer has authorized payment to your PayPal account, you will receive a message in your DASH Inbox (as well as through your email) informing you of the purchase. This email will list the item(s) purchased from this user, give the transaction details, and it will give you the shipping address of the buyer. If you log into your PayPal account, you will find that DASH has created an order for you in PayPal. The purchase information is filled in should you want to use PayPal's shipping or customs forms features.
You should pack the item for shipment to the buyer and communicate with the buyer about the status of their order through the transaction details available under My Account.
I sold an item I've listed on DASH somewhere else. How do I remove it from the DASH Marketplace?
If you have an item for sale on DASH and sell it elsewhere, click on the drop-down menu and click on My Account. There, you will see your Active Listings. Find the listing you want to remove and click the "End" button that appears when you hover your mouse pointer over its picture.
How do shipping costs work?
Please refer to the information about listing an item for sale. These shipping features accomodate the most typical transactions. In the case that buyers and sellers work out different shipping fees for a transaction, DASH recommends that the buyer/seller simply process a refund to the other party through PayPal to account for the difference, or Sellers can adjust the invoice based on the resolution to the Buyer's inquiry.
I don't want to sell to people in some countries. How can I keep that from happening?
In My Account, you will find Marketplace settings. Be sure to uncheck the geographic regions you do not want to support. Buyers from countries within those regions will not even see your listings in the Marketplace and will be unable to purchase from you.
How do I communicate with the buyer about the status of their order?
In My Account, you will find a section called Accounting/Invoices where you can post updated shipping status and information (e.g. tracking number) for the buyer.
How can I promote my listings on DASH?
There are several ways sellers can promote their listings on DASH today. The team at DASH is working on additional opportunities as well.
Send Prospects a Web Address with Your Listings: Every seller on DASH can send (or post to web sites) a listing that showcases only the items they have for sale.
Share Your Collector Showcase on Facebook and Put a Link to Your Showcase in your Forum Signatures: Every user on DASH gets his own "showcase" site. Its a super way to let others connect with you as a collector and check out the items you have for sale.
How can I tell what items people might want to buy?
There are several ways to review what items have been marked as Wanted by other collectors. You can see this the total number wanted in the Catalog, as well as in your My Collection.
What are good tips for estimating shipping costs?
Step 1: Package your item, then weigh and measure the parcel. Even if your item only weighs a few ounces, it is important to note the total weight to accurately estimate shipping costs. If you measure or weigh your item before wrapping it, keep in mind that the weight of the box or the packaging materials (irregularly shaped boxes in particular) can change your original shipping estimates. (Note: Getting an accurate weight for the parcel is key. You really need a real postal scale to do this, or you can take the item to your local post office where you can weigh it.) (Also note that DASH Collector's Club members gain access to each item's shipping dimensions and weight as part of their premium subscription.)
Step 2: Select your shipping service provider. Common choices are the United States Postal Service (USPS), UPS, FedEx, or DHL. Items shipped through the USPS via Paypal get discounted shipping rates, as well as free tracking. Calculate your shipping costs based on the shipper's calculations. USPS, UPS, DHL and all other major shipping services provide online tools to calculate shipping. Visit their website for an accurate estimate. Here are some links you may find handy.
Shipping cost estimators:
What are good tips for packing items for shipment?
Choose a box that's slightly larger than the item you're sending so you can cushion the item with packing material on all sides. Pack the item with bubble wrap, peanuts, foam, or paper so there's no room for your item to shift. Use clear or brown packaging tape, reinforced packing tape, or paper tape. Tape should be at least two inches wide. Don't use masking tape, cellophane tape, cord, string, or twine. Tape the opening of the box and reinforce all seams. Properly label the package and include a return address. If you're reusing a box, cover any previous labels or cross out any previous address information with a heavy black marker It is always a good idea to include a packing slip/return address inside the box in the event of damage to the label and so the buyer is reminded of how to contact you for feedback or in the event of a problem.
Note: DASH supports the automatic shipping label printing feature in PayPal to make printing an accurate shipping label for your parcel quick and easy. (Courtesy: eBay website)
OTHER
What is the best browser to use for DASH?
We regularly test with Firefox, Chrome, Internet Explorer and Safari. We find that Firefox and Chrome are the fastest and most reliable, but IE and Safari work well also. We know people use browsers other than these four to use DASH, but we don't test or try to fix bugs on any browser other than the four we regularly test with.
How can I send a message to another collector?
DASH has an internal messaging system to enable communication between users without divulging personal information. Right now, conversations can only be initiated to a user who is selling an item in the DASH Marketplace. Once the conversation is initiated, the two users can exchange messages.
How do you get the DASH iPhone or Android app?
Search for "model trains" in the iTunes App Store to download and install the DASH "Trains" app to your iPhone, iPod touch or iPad. Likewise, search the Google Play store for "Model Trains" to find the DASH Model Trains app. The app is free, and it is most useful for DASH Collector's Club and Premium-level members. To use these apps, you need to log in using your DASH username and password that you use on the website.